ABOUT THE CREATIVES
BETH FALCONE (composer/lyricist)
won the prestigious Kleban Prize for Most Promising Lyricist in American Musical Theater for Wanda's World. Her work has been featured in the annual Bound for Broadway (Merkin Hall), Lincoln Center Library's Future Broadway Songbook Series, Manhattan Musical Theatre Lab, Prospect Theater Lab, and BMI Musical Theatre Showcase. An accomplished pianist noted for her "fiery piano playing"— Chicago Sun Times, Beth performs annually in Urban Stages' Winter Rhythms series and will be a featured composer in She Will Rock You, a benefit concert for Maestra at 54 Below in February 2020. Shows: Wanda's World; Love in the Age of Recycling; Are Women People? — a new victrola musical; Wishful Thinking. Beth's choral works are performed in New York City annually and around the country. Favorites include: "Happy HannuKwaanzMas!"; "Do You Hear?"; "Hanukah is Coming!" (commission); and "I Am the Hanukah Light" (commission). Beth is a recipient of the Harrington Award for Outstanding Creative Achievement and a Dramatist's Guild Musical Theater Fellow. Affiliations: BMI Musical Theatre Workshop, Dramatists Guild, Maestra. BethFalcone.net
---
ERIC H. WEINBERGER (book)
Plays: CLASS MOTHERS '68 starring Priscilla Lopez at Luna Stage Company in NJ and Off –Broadway (Star Ledger Award for Best New Comedy in NJ), SIX HANDS at Yale University and Luna Stage, THE NIGHTWATCHMAN at Luna Stage, LADY BIRD, PAT & BETTY: TEA FOR THREE with and starring Elaine Bromka touring the country since 2004 (www.teaforthree.com), three plays for children at Andy's Summer Playhouse in Peterborough, NH. Musicals: WANDA'S WORLD produced Off-Broadway by Amas Musical Theatre (Drama Desk Award nomination for Outstanding Book of a Musical, Lucille Lortel Award nomination for Outstanding Musical), AND THEN I WROTE A SONG ABOUT IT, world premiere at Luna Stage, 2010 and produced at the Diversionary Theatre in San Diego, 2011 (www.andtheniwroteasongaboutit.com), BROTHERS, BOYFRIENDS AND OTHER CRIMINALS, world premiere at Zach Theatre in Austin, Texas, 2011. Workshop production of GIANT STEPS, a contemporary "urban" version of Jack & The Beanstalk, at the University of Texas in Austin and Texas State in June, 2012. Since 1994, Eric was the volunteer producer of an annual benefit for the A-T Children's Project (genetic disease research organization) at Lincoln Center in New York City starring many Broadway and Off-Broadway luminaries and other artists. He grew up in New York City close to the Great White Way. Since Eric's passing in 2017, the "Eric H. Weinberger Award for Emerging Librettists" For more information visit www.amasmusical.org/eric-h-weinberger-award
---
BOB MALONE (orchestrations)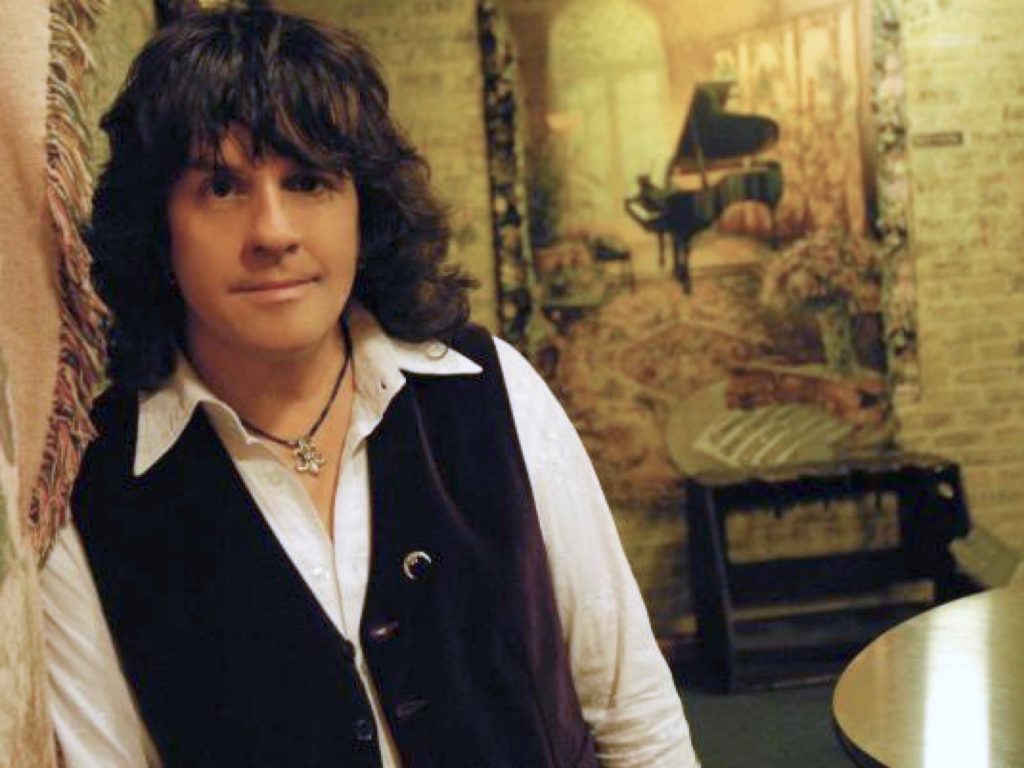 has played keyboards with rock legend John Fogerty since 2011. He is also a busy session player and arranger, and is featured on the latest Ringo Starr record, "Give More Love." His recording of "You're A Mean One, Mr. Grinch" was featured in the worldwide trailers for the Illumination/Universal movie The Grinch. Classically trained, with a degree in jazz from Boston's prestigious Berklee College of Music and a lifetime playing rock & roll clubs, theaters, and arenas, Bob combines unforgettable songwriting with a one-of-a-kind hybrid of rock, blues, and New Orleans R&B, delivered with high-energy piano virtuosity and a voice all his own.Born and raised in New Jersey, Bob has lived in New York City, New Orleans and Boston, and is currently based in Los Angeles. As a solo artist, Bob plays around 100 shows a year in the US, UK, Europe and Australia – including sets at Umbria Jazz Festival (Italy), Glastonbury Music Festival (UK), Colne Blues Festival (UK), Long Beach Bayou Fest (US), Falcon Ridge Folk Fest (US), Blue Mountains Music Fest (AU), and Narooma Blues Fest (AU). He has been featured twice at WWOZ Piano Night in New Orleans, and has opened for Boz Scaggs, Subdudes, The Neville Brothers, Rev. Al Green, BoDeans, Dr. John, Marcia Ball and many others. As a member of John Fogerty's band, he has played with Bruce Springsteen, Bob Seger, Jackson Browne, Billy Gibbons, Jimmy Buffett, and Alan Toussaint. Malone's last album, Mojo Deluxe, went to #1 on the Independent British Blues Broadcasters (IBBA) radio chart, was one of the top 100 most played CDs on the Roots Music Report radio charts,top 1 5 on the Relix/jambands.com charts, and appeared on the Living Blues and Americana Music Association (AMA) radio charts. Videos from Bob's Mojo Live DVD were given exclusive premiers by Relix Magazine and Alternative Root Magazine. His Mojo Live CD was released in fall of 2018 on Italian label Appaloosa Records. His latest single "Good People" was released in July 2019.Bob's music has been heard on NCIS New Orleans, Dr. Phil, Entertainment Tonight, and The Rachel Ray Show. A sought after arranger, he recently wrote and arranged full symphonic scores for former members of the Temptations, Four Tops, Platters and Drifters and played piano and arranged big band and strings for a song recorded by Avril Lavigne for the Hallmark Channel.As a member of John Fogerty's band, Bob has appeared on many national television shows including The Late Show with David Letterman, Good Morning America and The View. Kurzweil Music Systems chose Bob to make the demo videos for their new Forte digital piano, and he is endorsed by QSC Audio, Hammond Organ and Fishman Acoustic Transducers. Visit his website.
---
LIZ DORAN (music director)
Elizabeth Doran is a New York based music director and pianist. Music team work includes- Broadway: Mean Girls, Tuck Everlasting, Allegiance, Les Misérables. Off-Broadway: Sweet Charity (The New Group). Chicago: Goodman, Court, Porchlight, Timeline, Griffin, and Boho. Proud Northwestern graduate.
---
LYNNE TAYLOR-CORBETT (director/choreographer – Original Off-Broadway Production)
Lynne Taylor-Corbett received Tony Nominations for best director and bestchoreographer of Broadway's "Swing!". She received Drama Desk and Lucille Lortelnominations for both "Wanda's World" and "My Vaudeville Man" Off Broadway. Heradaptation of "The Lion King" is in its seventh year at Disney's park in Hong Kong and herproduction of "Cougar the Musical" is currently playing Off Broadway.Ms. Taylor-Corbett has choreographed works for American Ballet Theatre, NewYork City Ballet, and the Alvin Ailey American Dance Theatre, among others. Her workshave been featured on "Live from Lincoln Center" and National Public Television. Featurefilms include "Footloose", "My Blue Heaven" and "Bewitched". In 2011, she created aproduction of Kurt Weill's "Seven Deadly Sins" for New York City Ballet, with Patti LuPonein the Lotte Lenya role. It was named as one of the most important dance events of the year. In February she directed a reading of "Distant Thunder", a musical set on the Blackfeet Rez in contemporary times. Co-written with Native American son, Shaun Taylor-Corbett, it is currently being developed by Amas Musical Theatre in New York. She is also helping to develop "Queen Mother", a new show based on the life of Hannah Hill, Charlie Chaplin's mother, under the auspices of Goodspeed Opera. Ms. Taylor-Corbett, a proud member of the Society of Directors and Choreographers, co-wrote and directed Good Housekeeping's benefit for the National Women's History Museum, featuring Meryl Streep. She is on the board of Rosie's Broadway Kids and has served as a consultant for the Hunger Project. Visit her website.
---
TERRY SCHNUCK (executive producer – album)
Terry Schnuck is the Managing Member of Linden Park Productions LLC. He is a five-time Tony Award winning Broadway and Off-Broadway producer whose numerous Broadway and off-Broadway credits include: Beetlejuice; The Prom; Bandstand; Sunset Boulevard; Fun Home (Tony); You Can't Take It With You; Beautiful: The Carole King Musical; Matilda the Musical; Clybourne Park (Tony); The Gershwins' Porgy and Bess (Tony); Bonnie & Clyde; High; Race; Superior Donuts; Hair (Tony); Blithe Spirit; The Homecoming; Spring Awakening (Tony); 'night, Mother; Enchanted April;Shear Madness; Falling; Silence! The Musical and Wanda's World. Terry is also a principal of The Manhattan Monologue Slam. Currently on the board and former chairman of The MUNY in St. Louis (America's oldest and largest outdoor musical theatre), he is also formerly chair of Shakespeare Festival St. Louis.
---
ROBIN CARUS (album casting)
has been casting for 17 years. She was Head of Casting for TheatreworksUSA for nine years. While there, she auditioned thousands of actors and cast over 200 national tours and countless off-Broadway shows created by emerging playwrights and directors. Since then, she has cast for major theatre festivals including work at the 2009 Marathon Festival at EST, Eugene O'Neill Theatre Conference, Lincoln Center's American LivingRoom Festival, NAMT, NYMF, Fringe, Midtown International Theatre Festival and the Emmy Award winning Family Life Theatre. Tour: Clifford the Big Red Dog, Spank! The Fifty Shades Parody, Family Life Theatre, TheatreworksUSA Regional: The State Theatre, Arizona Theatre Company International: Sunfish (Dir: Will Pomerantz, Daegu International Theatre Festival, Korea) Off-Broadway: Pete the Girl (The Living Theatre), Aesop's Fables (Dir: Theodore Mann/Circle in the Square), The Last Castrato, Like You Like It (Dir: Igor Goldin/Gallery Players), The Plant That Ate Dirty Socks, Seussical, Max & Ruby, Henry and Mudge,Cam Jansen, Walk Two Moons; Summer of the Swans, Junie B. Jones, Sarah, Plain and Tall, Romeo and Juliet. Workshops & Readings: Folk City (Dir: David Marquez/Theater for the New City), Art (Dir: Dan Cordle), Caught (Dir: Nick DeGruccio), Dani Girl (Dir: Scott Schwartz) Concerts/Special Events: The Great WTYT 960 Billboard Sitting Contest, Like You Like It (54 Below), 2014 One Acts For A Cause: a benefit for City Harvest, 2014 JFest (Resident Casting Director), 2013 One Acts For A Cause: An Evening of New One Acts by Neil LaBute, John Patrick Shanley, and Winter Miller: a benefit for Safe Horizon (Signature Theatre, NYC), FX's "Archer Live" (Irving Plaza, NYC & Theatre of the Living Arts, PA), I Stand Before You Naked (Gerald Lynch Theatre), Speargrove Presents (Julia Miles Theatre), Strange News From Another Planet (Dir: Michael Alltop/Fringe), City of Dreams (Dir: Michael Alltop/MITF), Like You Like It (Dir: Jen Bender/NYMF, Musical Mondays Theatre Lab) Film: Love True, Weathering, Running With Sharks, The King's Pawn, Disgrace, Elvis, Rover, No Vagrancy, Skook (Additional Casting), A Breath Away, Breaking the Chain, Tiger, Underwear (Winner Best Short Savannah Film Festival). TV: "Whistler and the Case For Beauty" (PBS), commercials. In addition to her casting experience, Robin was the Founding Producing Director for BIMA-NY, a groundbreaking Jewish theatre company that cultivated Jewish playwrights and exposed audiences to modern Jewish themes. She is also on the Young Leadership Board of the America-Israel Cultural Foundation. Robin lectures and teaches audition workshops in New York and at colleges around the country. learn more